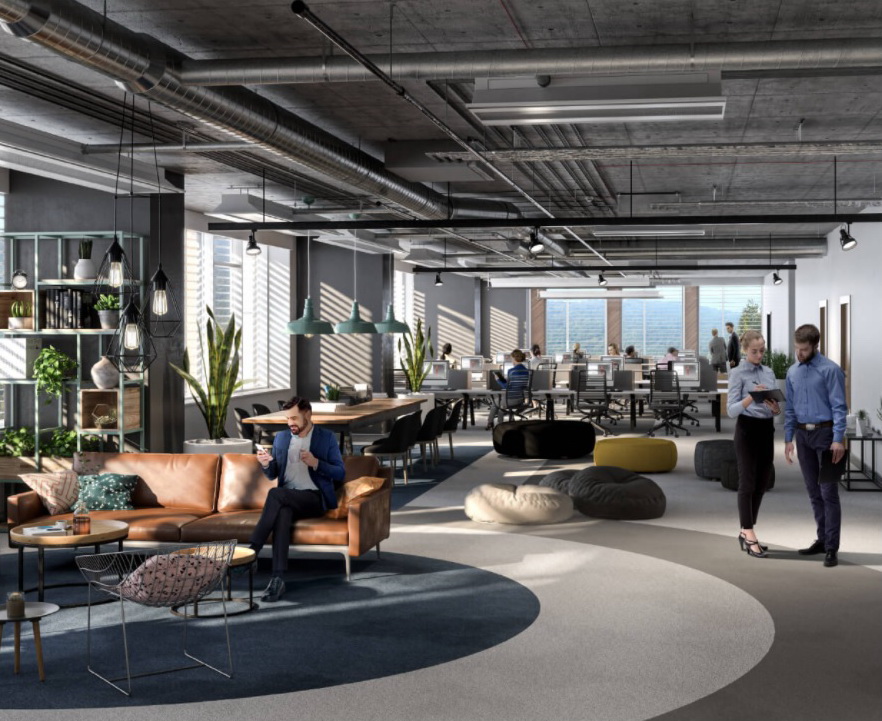 6 things to consider when looking to rent an office
Choosing an ideal office for your business is not an easy task, because there are a lot of factors which you have to take into consideration.
Because of that, a good understanding of the market can significantly cut the time you spend searching for an office.
То help you find an office we made a list with basic factors you have to take into consideration when looking for an office space to rent.
 1) Budget 
Determining your budget is the first thing we advise you to do when searching to rent an office so that you don't lose time and energy in worthless viewings. The office market in Sofia is large and varies in price so your budget is the defining point between which offices might be suitable for you and which are not.
The rental price is determine by factoring the following points:
–             The office location
–             The type of the building where the office is
–             The features of the office
–             The floor on which the office is ( only for part of the office buildings)
More about the factors that determine the rental price of the offices, you can read here Factors determine the rental price of an office
2) Location
Location is key when choosing an office space. The office should be easily accessible for both your employees and your customers (if they visit you often).
If your office is difficult to find or in an area with few transportation links, this can negatively affect finding new employees or retaining old ones, as well as your relationship with customers.
Very important for the location of the office is the existence of nearby dining areas, cafeterias, bank branches, parking spaces, public transport stops, etc.
If your company's employees, as well as your customers, travel mainly by car, then it is better to choose an office with a location that is outside the most popular ones, but will provide you with easy accessibility and parking.
One of the most preferred areas in Sofia are those in the immediate vicinity of the metro, which provides fast movement, regardless of overground traffic. The proximity to the metro is extremely convenient, but it also brings with it higher rental levels for the offices around it.
3) Office size
The size of the office is the next thing you need to consider when looking for an office for rent. If your business is growing and you expect the number of your employees to increase, it is good to consider whether to take a slightly larger office that will meet your needs in 6-12 months or choose a larger office building that will be able to to provide you with a larger office for rent when needed. You can read more about how to determine the office space you need and what to consider at How much office space for rent do I need?
4) Amenities 
Some of the offices nowadays come with a wide range of additional amenities. Before you start your search, we recommend that you decide what amenities your employees need to have access to. Those can be places for rest, meeting and conference halls, restaurants, fitness, bicycle parking, outdoor green space, etc.
Keep in mind that the more additional extras that are offered in an office building, the higher the rental price of the offices in it will be.
5) Term of rental agreements for offices
There is a significant difference in the conditions for renting an office in the different types of buildings. Below we will describe the main differences to help you decide more easily what type of office building would be most suitable for your business depending on your plans and resources.
In class A office buildings, the term of the contracts varies between 3-5 years, and in most cases this period is unbreakable. If you are not ready to commit to such a long-term lease, we recommend that you look for an office in one of the other types of buildings (class B, mixed-use buildings or residential buildings), where the term of contracts varies between 1-3 years and many contracts are often with more flexible terms and conditions.
6) Additional costs and fees for renting an office
The Service charge (maintenance fee) as well as the security deposit are an integral part of the rental agreement for each office and are important to consider when determining your budget.
– Service charge
In addition to the rent, in office buildings you have to pay a service charge, which is calculated based on the rental area. Usually for class A office buildings it varies between 2 Euro / sq.m – 3.5 Euro / sq.m without VAT, and for class B buildings it is between 0.8 Euro / sq.m – 2 Euro / sq.m without VAT. This fee is different for each building and is paid monthly, together with the rent for the office.
There is also a maintenance fee due for common parts in mixed-use buildings and residential buildings, but it is usually minimal and does not depend on the size of the office.
– Deposit for the office rental agreement
In every rental agreement there is a security deposit that has to be paid by the tenant, which serves as a guarantee for the good maintenance of the office premise and the timely payment of the amounts due under the contract.
For Class A office buildings, this security deposit is usually equal to of the sum of 2 or 3 monthly rents plus the subsequent service charge fees. For Class B office and mixed-use buildings, the deposit is the sum for 1-2 months
At Sofia Offices we know how important it is to choose the right office space. Our team is available to help you find the perfect place for your business without wasting time in unnecessary surveys and market research. Are you ready to start your search? Contact us by e-mail: [email protected] or call us at 00359 888 137 222; 00359 885 908 811.
Read More