Serviced offices in Sofia top center
Serviced offices in Sofia top center
If are looking for a prestigious location and representative vision, as well as serviced offices in Sofia, then this office building offers everything you need. Located in the top center of Sofia – on Tsar Osvoboditel Blvd. and few meters away from the Parliament and Radisson Hotel, the building provides a unique environment for developing your business in the heart of the city.
More About the building on Tsar Osvoboditel Blvd that offers serviced offices for rent
This office building on Tsar Osvoboditel Blvd. grabs attention with:
– its representative lobby
– the refined interior of the common areas used by all tenants (business lounge, meeting places, places for rest, breakfast and lunch)
– attention to each detail, not only in the interior, but also in the services provided.
What type of serviced offices we offer in the building?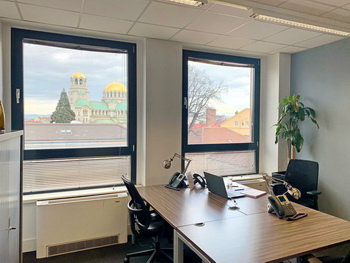 In this building you can rent the following types of serviced offices for rent for a month, several months, an year or longer:
• Office with windows
• Internal office. These offices look at the internal office spaces of the building and are at the best prices.
• Office with connected premises
• Desks rentals in co-working office space. If you do not need a private office, you can take advantage of renting several or one work station in the co-working office space together with other clients who prefer the same option.
We can offer you flexible options tailored to your needs and capabilities. You can rent from small private offices with 1-2 work desks to offices with over 20 work stations.
All serviced offices are rented fully furnished with desks, chairs, storage unites, meeting tables (if the office space allows it), as well as with provided high-speed internet, which is included in the rental price.
Additional extras that come up with the serviced office
Apart from the furniture, by renting an office in this office building, you will have the opportunity to use all the extras that the building offers, such as:
– Conference halls with different capacity (for 2, 4 or 12 people)
– Reception
– Business salon
– Dining area
– Fully furnished and equipped kitchenette
– Areas with office equipment (printers, copiers, etc.)
– Underground parking
Advantages of the location of the building
– Subway station Sofia University few meters from the building
– Trolleybus and bus stops 2 minutes away
– Most of Sofia administration is within walking distance
– Many bank branches around the building
– Beautiful shopping streets with lovely small cafes and restaurants on its doorstep
– Most of Sofia's sightseeing on 5-10 minute walk ( Alexander Nevski Cathedral, The Parliament, The Presidency, St. George Rothonda, The St. Nikolay Russian Church, Eagle Bridge, Borisova garden park, many museums, etc
All the above, together with the proximity to Tsarigradsko shoes blvd, Slivnitsa blvd and Todor Alexandrov blvd, make this area a top choice for tenants.
To get more information about vacant offices, as well as the best price, please contact us! We charge NO COMMISSION for the serviced offices we offer!
24/7 security
Central A/C and ventilation system
Controlled Access with magnetic cards
furnished
internet
parking
Reception
Restaurant
Structured cabling in floor boxes
Subway near by